With the busy day today and hectic work schedule everyone wants to have some relief and people are seeking chances for going on vacation and to cherish and relive memories we need a good quality camera.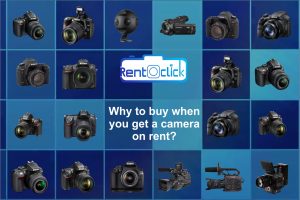 There are people who go for a vacation just to showcase their trip photos and to such photoholic people good quality camera is a must thing. With the advancing technology, even basic phone is supporting camera features, but even after a lot of development in mobile camera quality they still cannot compete with professional cameras. The only issue with owning a good quality professional camera is that they are expensive and if you are not a professional photographer or a person who is mostly out for trips these super expensive cameras can dig a big hole in your pocket and they will also become old once the new models are launched in the market. One camera cost can easily support some good holiday, so why to buy a camera when you can rent it.
Renting a camera can you help you store your memories for any trip or occasion and you can also save costs if you rent a camera instead of buying the new camera.
Here are some of the important reasons that can help you
Getting a camera on rent is super easy: Renting a great camera of your choice from Rentoclick is super easy. We have options deliver it to your location and also you pick the camera from your nearby pickup points. We have a wide range of camera, lenses and other support equipment to help with you with your camera hunt. We have cameras and lenses available for the best and economical options. You just have to name it and you will surely find it through Rentoclick.
Availing a camera on rent from Rentoclick is the best economical option. Why make a big hole in your pocket, when you can rent it till the time you need and there is no limit on the time and number of times you can get the camera on rent. There are various options available to get cameras and lenses on rent from Rentoclick, instead of buying the camera and other supportive equipment. When you rent the camera from us you will just have to spend a small fraction of the amount that you might be spending if you buy the camera, lenses and any supportive equipment.
Every Destination and occasion needs something different: While renting a camera from Rentoclick you can get it delivered at a location of your choice, instead of carrying with you and getting worried about the security of the camera, lens and other supportive equipment. You can also choose the camera, lenses as per your occasion or holiday destination instead of taking the same camera available with you. If you are going for some location which needs detailed images, you can choose for HD camera on rent, DSLR on rent and if you are going for an underwater holiday, any thrilling holiday, any ride or any kind of adventure you can opt for GoPro on rent.
The camera on Rent for practising for photography: It is always best to rent camera, lenses and other supportive equipment instead of buying them, because it takes time to reach the perfection level and if you purchase just any camera without much knowledge of camera and photography you might end up making a bad choice on camera.
For more details feel free to connect with us at www.rentoclick.com